At NLE Resources, we are always looking for free and helpful resources that will help your shul, school and institution run effectively and efficiently. In this post, we want to share with you two wonderful resources that will help a young or old shul move in a positive direction.
The first resource we want to bring to your attention is called: ShulPolitics.com. This site is run by Mark Frankel, who has co-managed BeyondBT.com for the past seven years, providing continuing chizuk and support for Baalei Teshuva by publishing over 1,600 articles from hundreds of authors around the world and moderating tens of thousands of comments centered around the articles.
In his community, Mark has served as president, treasurer, board member and education chairman of his shul. He was also a primary organizer in his shul's building campaign and was the founder of the shul's pre-school program. ShulPolitics.com is Mark's forum for sharing experiences in leading, managing and governing groups of Jews in local communal affairs. ShulPolitics.com is not a site that stirs the pot and discusses "shul politics". Instead, it recognizes that shuls are a great place for a community to pray and gather for events. Each blogpost is short and practical and discusses what makes shuls tick and how we can makes them better places! Feel free to read more about the site here.

The second resource is called: Shul Solutions. Shul Solutions recently launched as a monthly e-newsletter from the National Council of Young Israel. This publication is specifically geared toward helping shul lay leaders and executive directors. This new publication helps solve common shul problems, guides lay leaders and office staff to manage, grow and lead their shuls more effectively.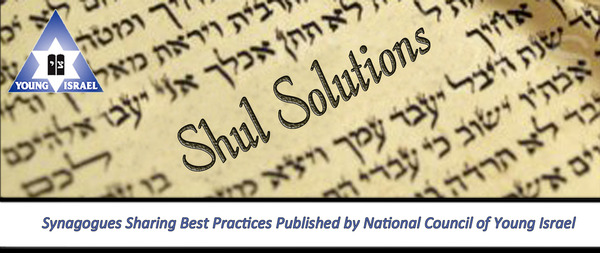 To date, Shul Solutions is circulated to over 25,000 people worldwide. Translated versions are available in Spanish, Hebrew, and French. To sign up or request an edition in a different language, you can contact amatityahu at youngisrael dot org.
Below, are three examples of previous editions of Shul Solutions. The PDFs give you a good idea of how this e-newsletter can help you and your shul.
January 2014

:

 

Do We Need Shuls, Shul Surviving a Natural Disaster, Making a "Safer" Torah, Keys to a Successful Teen Minyan.
February 2014

: When to Hire Office Staff, A Healthier and Greener Kiddush, Get the Most Out of Youth Leaders, Integrating the Deaf.
March 2014

:

 

Dynamic Shul Programs, Don't Clique here, The Gabb-Ipad, Boys at the Bimah.
We hope you find these two resources helpful in advancing the needs of your congregants and community. We'd love to hear from you if you have any further tips or resources that can be helpful when it comes to operating a successful shul anywhere around the globe!